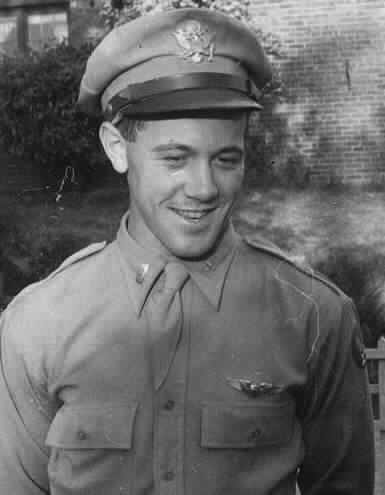 1Lt Robert H. Kirry just before he went overseas and wearing the wings pictured above. His son, John, would wear these same wings at his own graduation from USAF Pilot Training.
Major Robert H. Kirry
After Preflight training in Santa Ana, he went to Primary at Blythe CA (PT-22), Basic at Minter Field (BT-13A) and Advanced at Williams Field AZ (T-50). He received his wings with Class 43-c on Mar 10, 1943. He trained with the First Troop Carrier Command in the C-47 and went overseas with the 99th Troop Carrier Squadron, 441st Troop Carrier Group at Merryfield England. He dropped paratroopers on D-Day and towed gliders with airborne troops on D+1. He and his crew were shot down over Holland on September 23, 1944 during Operation Market-Garden and spend the remaining months of the war in Stalag Luft III. Only three of his five fellow crewmembers survived the shoot-down. He was awarded the Air Medal with five oak-leaf clusters. He returned from the war and flew for Pan American World Airways until 1958 when he perished in a boating accident in the cold waters of Puget Sound.