Please use the "Back" button on your browser to return to the prior page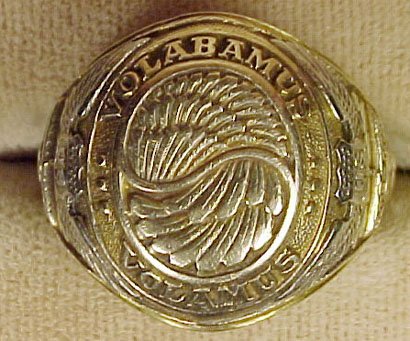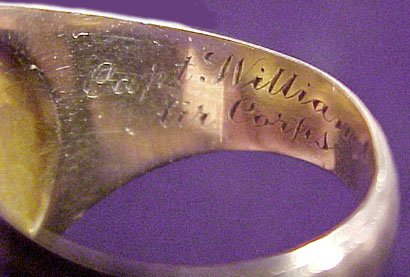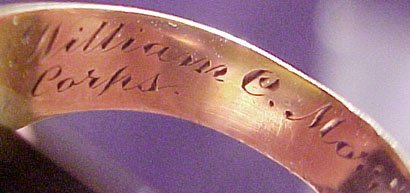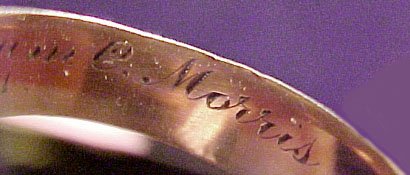 The Order of Daledalians was an exclusively society formed in 1934 for US Army pilots who earned their wings prior to November 10, 1918. During the hectic days of World War II the Order was allowed to subside; however, it was later revived in 1950. It is still active today but only because the original bylaws were changed in the mid-1950's to allow any current or former USAF or USN pilot to join.
Unfortunately, the die for the original gold and silver rings was discarded during the approximate 10-year period in which the Order was inactive.
This particular ring was worn by Major William C. Morris, a career officer in the USAAS, USAAC. Major Morris was raised near Charlotte, NC. He died in 1939 due to complications following surgery for a ruptured appendixes.
During WWII, Morris Field Air Base in Charlotte, NC was named after him. The old field is now known as Charlotte Douglas International Airport and it is ranked among the nation's top airports averaging 500 daily departures and 23 million passengers annually.
William Colb Morris (O10699)
Born: Harrisburg, NC, August 4, 1891
Parents: Zeb. A. Morris and Sallie Culp Morris
Home town: 97 South Main Street, Concord, North Carolina (pre-WWI until 1939)
Wife: Maurine Garrett Morris; born, December 10, 1898, Texas; Died, July 1992 Escondido, San Diego County, CA
Children: One daughter
Education: Concord High School; Wright Brothers Preparatory School; Davidson College; U. S. Military Academy, 1 August 1911 to 9 January 1912; Air Service Pursuit School 1921; Air Corps Tactical School 1939.
Professional experience: Salesman for Nash Brothers of Minneapolis with stations at Winnipeg, Manitoba, Canada and Yockton, Sackatchewan, Canada.
Aeronautical Activities: PU. S. School Military Aeronautics, Berkeley, California, 1917; flying training at Rockwell Field, Gerstner Field; Advanced Pursuit Training at Issoudun, France; 1st Aviation Instructional Center for Advanced Gunnery Course; discharged July 15, 1919; re-entered service September 1920; flying instructor at March Field, California; test pilot and assistant engineering officer, 95th Squadron; attached to 14th A. S. in connection with bombing off Virginia coast.
Aero Club of America Aviator Certificate, issued under F.A.I. Rules #1467
Military Flying Rating: Reserve Military Aviator, March 7, 1918; Airplane Pilot, October 1920; Air Observer, 1936; Military Airplane Pilot (12 years service and 2000+ hours), December 1937.
Military service ratings: Private 1st Class Aviation Section Signal Officers Reserve Corps, October 27, 1917 to March 7, 1918; 2nd Lieutenant Aviation Section Signal Officers Reserve Corps March 7, 1918, discharged July 15, 1919. 1st Lieutenant, Air Service (July 1, 1920); Captain (August 1, 1931); Major (temporary) April 20, 1935 to July 26, 1935; Major (temporary) June 16, 1936, accepted June 22, 1936.
Known military addresses:
(1922) Ellington Field, Texas.
(1925) Air Service, Dallas, Texas
(1929) Langley Field, VA
(1939) Dayton, Ohio
Order of Daedalians: February 27, 1935 at Maxwell Field, Alabama
Died: September 4, 1939 at Dayton, Ohio
Internment: Arlington National Cemetery, Arlington, VA
When World War II started, a small airport in Charlotte, NC, formerly called Douglas Municipal Airport, was renamed the Charlotte Army Air Base after it had been taken over by the Army in April 1941, eight months before Pearl Harbor. It became a major part of the city/county's war effort as well as the economic and social structure of many surrounding communities.
The airport was dedicated on April 21, 1941 with a number of dignitaries in attendance including N. C. Governor James M. Broughton and Fiorello H. La Guardia, Mayor of New York City. After viewing a mile long parade down West Trade Street in Charlotte, which included the Central High School marching band, La Guardia told about 10,000 visitors to the Charlotte Air Base that "we are challenged by Adolph Hitler now." This was a foreshadowing of what was to come for the base and its service men within the next eight months.
On January 22, 1942, the name of the airport was changed again to Morris Field, in honor of the late Major William Colb Morris, USAAC who was born on August 4, 1891 in Harrisburg, NC and raised in Concord, NC just a few miles north of Charlotte. Major Morris was a WW I veteran flier and instructor who had attended Davidson College and the United States Military Academy, West Point before World War I broke out. Although he had originally joined in the Canadian Air Force, he transferred to the United States Air Corp when America joined the war in 1917.
Major Morris served in France during the war and later wrote a book on training officers. He served at airfields in the Philippines, California, Virginia, Texas and Ohio. He married Miss Maurine Garrett of Texas in 1923 and they had one daughter. After complications from surgery for a ruptured vermiform appendix, he died in Dayton, Ohio on September 4, 1939. At the time of his death, he was a member of the staff of the Chief of Air Corps. Internment was at Arlington National Cemetery, Arlington, VA


Order of Daedalians
THE LEGEND OF DAEDALUS AND ICARUS
DURING THEIR ESCAPE FROM THE ISLAND OF CRETE BY FABRICATING WINGS OF FEATHERS, WAX AND STRING. DAEDALUS FLEW SAFELY WHILE ICARUS, DISREGARDING THE ADMONISHMENT OF HIS FATHER, FLEW TOO HIGH. NEAR THE SUN. THE WAX OF HIS WINGS MELTED AND HE FELL INTO THE SEA THAT NOW BEARS HIS NAME. POSSIBLY YOU ARE LESS FAMILIAR WITH THE GENESIS OF THE ORDER WHICH HAS TAKEN ITS NAME FROM THE SUCCESSFUL LEGENDARY GREEK FLYER.
IN OCTOBER 1933, A REPRESENTATIVE GROUP OF CAREER OFFICERS IN THE ARMY AIR CORPS, STATIONED AT MAXWELL FIELD, MONTGOMERY, ALABAMA, CONSOLIDATED THE IDEAS WHICH HAD LONG BEEN DEVELOPING WITH REGARD TO THE FORMATION OF A FRATERNITY OF MILITARY PILOTS.
ON MARCH 26,1934, THERE WAS FORMALLY INSTITUTED THE ORDER OF DAEDALIANS, COMPOSED OF THOSE WHO, PRIOR TO THE ARMISTICE OF 1918, HELD A U. S. ARMY RATING OF PILOT OF A HEAVIER-THAN-AIR POWERED AIRCRAFT.
THE ORDER OF DAEDALIANS TOOK ITS NAME FROM THE SUCCESSFUL LEGENDARY GREEK FLYER. THE ORDER WAS FOUNDED AT A TIME NOT TOO DISSIMILAR FROM TODAY WITH RESPECT TO SOCIAL UNREST AND THE POWER STRUGGLES BETWEEN NATIONS OF THIS EARTH.
THE ORDER OF DAEDALIANS WAS CONSTITUTED AS A MILITARY FRATERNAL ASSOCIATION, MEMBERSHIP BEING FULLY CONSUMMATED BY GIVING "THE PROMISE OF A DAEDALIAN."
The preamble of the constitution of the Order stated its purposes: "To perpetuate the spirit of patriotism and love of country…and the high ideals of self-sacrifice which placed service to the nation above personal safety and position, and to further cement the ties of comradeship which bound us together at that critical hour of our nation's need."