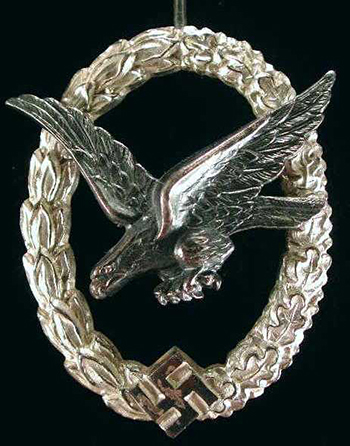 Width:
Height:
Weight:
Hallmark:
Pin/Clutch:
Contributor:
Date Added:
Note:
37.9 mm across the wreath and 41.4 mm across the wings
51.8 mm
25.4 grams
W. Deumer, Lüdenscheid
Pin Back

4/10/2003
The Air Gunner's Badge (also for Flight Engineers and Air Crew Meterologists) was instituted in mid-war (June 22, 1942). It was identical to the Radio Operator/Air Gunner's badge, in place since 1935, in every respect except the lightning bolts symbolizing the radio operator were absent. Frequently we see early tombak badges where the lightning bolts were removed by a jeweler. Most Air Gunner's badges are made of feinzinc/kriegsmetal. This is a rare example of an original tombak badge manufactured without the lightning bolts by W. Deumer, Lüdenscheid.